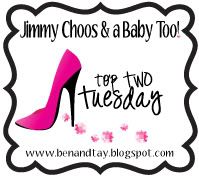 This week's topic is Top 2 Favorite TV Shows.
I found this blog through a friend's blog - she does these posts every Tuesday and I think they are very cute and fun, so I've decided to do my own as well!
My Top Two Favorite TV shows are (drum roll please!):
Okay seriously, I am in LOVE with David Boreanaz. I've loved him ever since he played Angel on Buffy the Vampire Slayer. He is, without a doubt, the sexiest on TV actor ever. But that isn't the only reason I love Bones. The show has substance and while it has a great story line, it is also cute and makes me laugh. I tune in every Thursday to watch this show and I own all the previous seasons on DVD.
GLEE
My new favorite show from last fall's new lineup. This show is hilarious. On top of that, it reminds me of my show choir days back in high-school. It has great music, I love the performances at the end of every episode and I just KNEW they would win sectionals. I was totally bummed when it took a 4 month hiatus, but it comes back in April and I can't wait!
A few of my other favorites that didn't make the top two but are in the top 5 are:
Lost
(although I've been rather disappointed with the final season so far)
Heroes
(it took me a while to get into this show - I didn't tune in until Season 2, but after catching up I was quickly engrossed).

Grey's Anatomy
(this show won't be on much longer, they are running out of story lines, but all in all, I find it to be a great show and I'm glad Izzy is no longer on the show).